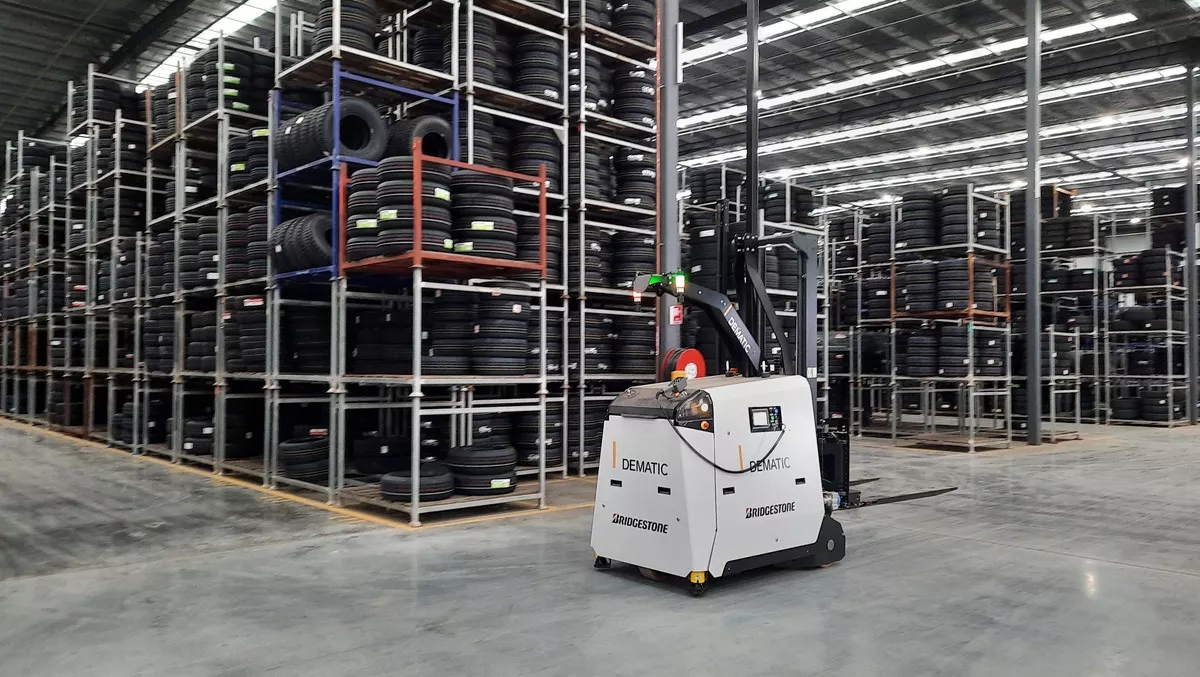 Bridgestone Australia uses Dematic's AGVs to optimise warehouse operations
Wed, 6th Jul 2022
FYI, this story is more than a year old
Intelligent automated solution provider Dematic recently announced that Bridgestone Australia, a leader in sustainable mobility and advanced solutions, has deployed an Automated Guided Vehicle (AGV) solution across its new Melbourne warehouse in Truganina.
The AGV system helps to optimise Bridgestone's warehouse operations by managing, transporting, and storing product pallets within the facility. The vehicle also transports picked pallets for replenishment to selected handover locations or outbound replenishment and order staging areas.
The Dematic AGV solution includes custom-designed functionalities that enable Bridgestone to operate the vehicle for up to 24 hours with opportunity charging. The selected 'Counterbalance Model' AGV has a load capacity of 1,500 kilograms and a lift height of 4 metres.
Bridgestone ANZ national warehouse manager Nick Tzuntzurkas says by implementing this AGV solution, the company can boost efficiency levels.
"Automating transportation of put-away of products throughout the warehouse, doesn't compromise, but in fact improves the safety of our warehouse staff," he says.
"Alongside these improved safety standards, the AGV will help us to reduce wasted travel time, seeing resources re-allocated across the site. The efficiencies we have gained in time, space, and staff allows us to concentrate on other important tasks around the warehouse, and further improve customer service for internal and external stakeholders."
The Dematic AGV works as a driverless and automated forklift, controlled by Dematic Software to be loaded with data before setting off on daily tasks.
Dematic general manager of sales and mobile automation Tony Raggio says its AGV systems are tailor-designed to navigate any warehouse space with a laser-guidance system, using on-board hazard detection to avoid collisions.
"This high-end navigation allows them to move around a facility optimally and safely," he says.
"Additionally, our AGVs are powered by maintenance-free batteries and can drive themselves onto charging floor plates at times of inactivity to be charged."
Developed to operate with a high level of autonomy, Dematic AGVs can provide 24/7 service to improve output for a fast return on a vehicle investment. They provide a very high level of system redundancy and eliminate most human errors that can cause costly damages or picking and loading mistakes.
"The robust design and 360° safety field of protection allows our AGVs to effectively and safely co-work with operators and any other warehouse machinery or vehicles. In the short time their AGV system has been in operation, Bridgestone is already seeing the benefits at the new Melbourne facility," says Raggio.
"With the safety of our warehouse team our top priority, the use of automation with this new AGV investment will help us to create a safer workplace and minimise process errors that may lead to damaged products," says Tzuntzurkas.
"We're very pleased with our new AGV solution which is streamlining on-the-floor operations with automation to increase the efficiency of our supply chain for the benefit of our customers."